Just a few of our Departments! On your phone? Click on the three-line-menu at the top for more!
---
Who Are We? We've Been Building and Growing the Hobby, Since 2001.
We are a micro-business, owned by a woman. We are not sponsored by anyone. No outside advertising. No affiliates. No competition.
What we offer is authentically ours. Truly and completely different - just like YOU. We like it that way. A lot of what we off are our private label products that you just can't find anywhere else.
We are environmentally conscious: Everything we do, we think about how it impacts the environment. Most of our non-plant products are , durable, reusable, and can be rejuvenated easily.
Our plant and miniatures shipping methods are the best in the business - we GUARANTEE our plants during shipment <- we are that good.
Our Main Mission: We treat you how we would want to be treated. 
Subscribe to our FREE Mini Garden Gazette!
"Always enjoy your comments on whatever subject — either helps with good suggestions or just makes me smile!" - Marty
"I enjoy your garden gazette emails. This one made me laugh... Thanks!" - Ann
Want to dig deeper into the hobby? Want to get first dibs and discounts? Join us for your FREE Mini Garden Gazette, delivered every few days. Fill out the form below & confirm thru your email:
---
Shipping Info:
"How do you ship plants safely?"

Well, we have a secret shipping advantage called Steve. When Steve came onboard to help me (Janit) with the shipping in 2010, I taught him everything I know about how to ship plants safely by USPS. He then took it to a whole 'nother level. His OCD tendencies really, really help. Lol! You'll be amazed by his packing skills!
"How will you send my order?"
We ship by USPS Priority Mail for any package over 1 pound. It takes 2 to 3 days to get to you and will arrive with your regular mail. Anything under a pound ships by USPS First Class.
"Do you really guarantee your plants during shipment? No one else does that."

All our items are guaranteed during shipment because we have Steve. :o) Sometimes we have to wait until any major weather passes to ship plant material. And, sometimes we need to wait until the weekend passes to ship it - but it's will get there in perfect condition!
"How long does it take to ship?"

It normally takes about 3 to 5 days to pack and get it the post office. During the busiest months in spring, it can take up to a week to get the order processed and shipped.

Our inventory and plant availability rotate in and out of stock. Join our email list to stay updated on any new plants or products! Use the form above and confirm thru your email.
We Built a Community
The Miniature Garden Society is dedicated to the research and development of the hobby of Gardening in Miniature.

Find all the right information at the right time, here in the right place!
---
Love our Work but Love to Lurk?
We've been sharing FREE content, inspiration, eye candy, laughs, relevant information and honest insight into this new hobby since 2001. While we do enjoy it, we do this for a living and research takes time and money.

We don't earn anything from outside advertising nor from any affliate links. All research and development of this hobby has been self-funded, (with 0 vacation-time!) If you've been lurking and loving us from afar, now you can help us keep the dance alive or just to say "THANKS for the boatloads of info-tainment and inspiration!"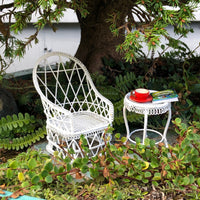 Military & First Responder Discount Available with GovX ID Verification!