---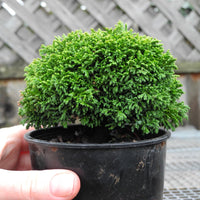 A finely textured, soft green bun that is a must for any miniature gardener. The Tsukumo is prized by bonsai artists so we know it will be a great miniature garden tree.
The Sawara Cypress can tolerate hotter and drier conditions than the Hinoki Cypress - but never let the soil dry out completely. 
A favorite for bonsai. 
Rich greens
Cute globe shape
Hardier than other Hinokis at Zone 4 or -30F
Growth rate is 1" - 3" per year
Cold Zones 4-8, Cold Hardy to -30F
Heat Zones: 8-1
Full or part sun
Regular water
An outdoor plant
Pot shown is 4 inches in diameter
 We recommend to print out this page for reference.
WE GUARANTEE OUR PLANTS SHIPPED BY PRIORITY MAIL.

The shipping in this secure shopping cart is automatically calculated, all shipping charges are double-checked by Steve to ensure accuracy. If there is any overcharges, which sometimes happen when ordering multiple trees, plants, stone and/or accessories, we will refund the difference once the order is packed and shipped. 

If you have any questions, please don't hesitate to email Janit at info@twogreenthumbs.com, or call 206-352-0494 and leave a message if we miss you. We are a micro business and don't have a receptionist.

We can only ship plants to the lower 48 States and Alaska. We are certified by the USDA.

~~~
From Helen in KY:
"Immaculate plants, diabolical packing!
Two thumbs up! 
Thank you."